Debut
Debut: v South Adelaide (Adelaide) 4th May 1912. Finale: v West Torrens (Adelaide) 26th September 1925
Clubs
SANFL
Norwood (1912 - 1925)
Sid White (Sometimes spelt Syd White) was a Norwood player from 1912 - 1925. Syd White always said the 1922 premiership side, which he captained, was the best Norwood outfit of his time. Someone's a good judge then, because more than 80 years on, no fewer than four of its members - Syd, Wat Scott, Tiger Potts and Ern Wadham - are in Norwood's inaugural Hall of Fame.
Through the first half of the '20s, Sid was very much the leader of a highly successful Redlegs band, with a second, a third and three premierships, the last of which he also coached. His brilliant early career was compromised by inferior Norwood teams and then the Great War, yet Syd still managed to absorb enough about the game for him quickly to be regarded as a consummate tactician when the competition resumed in 1919.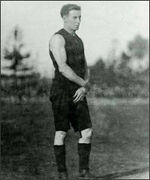 He was also a coach's dream, missing only 13 games through injury in 14 years. In an apparently seamless line of succession, Wat Scott took over most facets of Norwood's on-field activity when Syd retired in 1925, to the point where Norwood's roaring twenties became known as the White - Scott era. In 1923, at his peak, Syd was voted the man who had played the Australian game in the best interests of the grand winter pastime in SA that season.
Achievements
Edit
Norwood Captain: 1919, 1921 to 1925
Norwood Coach: 1925
Norwood Premierships: 1922, 1923, 1925
NFC Life Member
Norwood Hall of Fame
SANFL Hall of Fame
Norwood Team of the Century
Best & Fairest: 1913, 1914
South Australian Games: 8