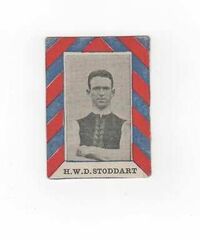 H.W.D Stoddart was a Norwood football player.
Football Career
Edit
Adelaide University Football Club
Edit
Stoddart captained the side in 1906 and later became secretary.
Norwood Football Club
Edit
Stoddart played for Norwood in 1909.
H.W.D Stoddart and Phil Kneebone incident
Edit
The incident occurred on Saturday 29 May 1909. Kneebone reported Stoddart for insulting him. After the disqualification, Stoddart was asked to apologized to Kneebone, but refused. It had been pointed out that the meeting that Stoddart had was not to apologize to the umpire, but the league. Although he still failed to apologize Stoddart's disqualification remained. Stoddart stated that "My reason for not making an apology is that I considered there was no need for one, especially as Umpire Kneebone allowed foul language to be hurled at him without demanding an apology". After that statement and Kneebone's failure to report other players, Stoddart's suspension was lifted and played the next week. Although that was finalized it was still argued that Stoddart was guilty and should have been suspended for insulting umpire Kneebone. Although the rule states that if this type on incident occurs than the player either must apologize immediately or suffer a 1 month suspension. Phil Kneebone retired from umpiring after this event."
Football Card
Edit
A football card of H.W.D Stoddart was listed on eBay of 795 dollars but did not sell.
http://www.ebay.com.au/itm/Rare-1909-Norwood-South-Australian-Football-card-of-HWD-Stoddart-/221407148120
http://www.mossgreen.com.au/view-auctions/catalog/id/41/lot/13785/?url=%2Fview-auctions%2Findividual-lots%2F%3Fpage%3D31