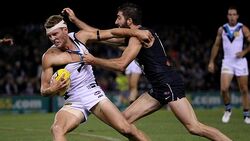 Date and Held
Sunday, March 16 (7:40 pm)
Scores
Carlton: 12.15.(87), Port Adelaide: 18.12.120
Television broadcast
Fox Footy
Most Goals
Justin Westhoff (5.0)
Best on Ground
Oliver Wines
Result
Port Adelaide Power's first win, Carlton Blues first loss
The previous match between these two clubs lead Carlton winning by 1 point which lead them to play finals last year, with the disqualification of Essendon. Carlton was predicted to win.
B Lachie Henderson, Matthew Watson, Zach Tuohy.
HB Kade Simpson, Michael Jamison, Andrew McInnes.
C Dale Thomas, Marc Murphy, Ed Curnow.
HF Chris Yarran, Jarrad Waite, Jeff Garlett.
F Andrejs Everitt, Andrew Walker, Bryce Gibbs.
Fol Robert Warnock, Tom Bell, David Ellard.
I/C Matthew Kreuzer, Mitch Robinson, Brock McLean.
Sub Troy Menzel.
Port Adelaide
Edit
B Jackson Trengove, Jack Hombsch, Matt White.
HB Jasper Pittard, Tom Jonas, Tom Clurey.
C Jared Polec, Oliver Wines, Kane Cornes.
HF Angus Monfries, Justin Westhoff, Jarman Impey.
F John Butcher, Jay Schulz, Robbie Gray.
Fol Matthew Lobbe, Travis Boak, Chad Wingard.
I/C Brad Ebert, Hamish Hartlett, Dom Cassisi.
Sub Matthew Broadbent.
First Quarter
Edit
The Blues jumped out of the blocks, with goals to new recruits Dale Thomas and Andrejs Everitt and David Ellard not only tagging running defender Jasper Pittard but hitting the scoreboard.
Second Quarter
Edit
The Hoff puts on the Superman cape. Justin Westhoff kicks four goals for the term, including one from a 50m penalty that will see Andrew Walker draw match review panel heat for a high elbow.
Third Quarter
Edit
The momentum ebbs and flows as Port Adelaide surges with four straight goals. Then Carlton flicks the switch and kicks three in a row, two of them from powerful Jarrad Waite marks.
Fourth Quarter
Edit
Chris Yarran kicks a surging goal then the Blues simply stop. Robbie Gray kicks three of six straight goals to surge away from the Blues.
Aftermath
Edit
| Carlton | | Port Adelaide |
| --- | --- | --- |
| 4.4 (28) | Q1 | 1.0 (6) |
| 8.8 (56) | Q2 | 7.5 (47) |
| 11.13 (79) | Q3 | 11.7 (73) |
| 12.15.87 | Final | 18.12.120 |
Goal Scorers
Edit
2:Ellard (2.1), Gibbs (2.1), Curnow (2.0), Waite (2.0)
1:Garlett (1.2), Thomas (1.2), Everitt (1.0), Yarran (1.0)
Port Adelaide
Edit
5:Westhoff (5.0)
4:Gray (4.1)
2:Wines (2.2), Schulz (2.1), Hartlett (2.0)
1:Butcher (1.2), Polec (1.1), Ebert (1.0)
Leading Disposals
Edit
Carlton: Simpson: 25, Gibbs: 23, Murphy: 23, Walker: 22, Robinson: 20 Port Adelaide: Cornes: 30, Wines: 28, Polec: 24, Boak: 23, Wingard: 22
Suspensions
Edit
Carlton: Andrew Walker (1 week for throwing Angus Monfries into fence)
Port Adelaide: Nil
http://www.heraldsun.com.au/sport/afl/port-adelaide-defeat-disappointing-carlton-by-33-points-at-etihad-stadium-andrew-walker-reported/story-fni5f22o-1226856251007 (Jon Ralph)
http://www.adelaidenow.com.au/sport/afl/port-adelaides-slow-start-gives-way-to-powerful-onslaught-against-carlton-at-etihad-stadium/story-fnia6ojc-1226857019937
http://www.theage.com.au/afl/afl-match-centre/afl-round-one-carlton-v-port-adelaide-20140316-34utk.html
http://www.sportsnewsfirst.com.au/articles/2014/03/17/andrew-walker-offered-one-match-ban/